Do you remember E's Untold Story where they delve into salacious celebrity stories or maybe it was Hollywood True Story? Who knows the name of the show, but who doesn't love a good story? VMware's vRealize story wasn't salacious, but hopefully, you find something interesting in this blog post or VMware's Cloud Field Day 9 presentation.
Lift and Shift or Bust?!
Let me confess first. The idea of lift-and-shift gives me heartburn. I get why organizations take this approach. However, the cost of running unoptimized workloads on EC2 instances with block storage coupled with the other unexpected expenses like egress gets pricy real quick. Also, costs are variable and often difficult to calculate. Who has ever priced anything in fractions of a penny like 0.1856 USD per hour? Cost is an important factor and Enterprise IT budgets continue to dwindle.
Sure, no organization wants completely divergent workflows for developing and managing applications. So to gain consistency of operations, organizations look toward lift-and-shifting instead of modernizing their applications to make the most of cloud-native agility like containers and object storage. Plus, lift and shift gains some appeal when you factor in aging hardware that is maybe out-of-support and end-of-life. Somehow running unoptimized workloads often is an easy sell than refreshing hardware.
Nothing in Enterprise IT is ideal and that includes lifting and shifting applications to the cloud. Teams are often pushed to take short cuts, by leaders in a much higher pay grade than you. Those shortcuts become the paths that ITOps teams are told to walk.
Maybe Organizations Can Have It All?
Cloud doesn't have to be an all or nothing proposition. This is where Cloud Management solutions like the vRealize suite that run both on-premises and as SaaS offerings in the cloud have real value.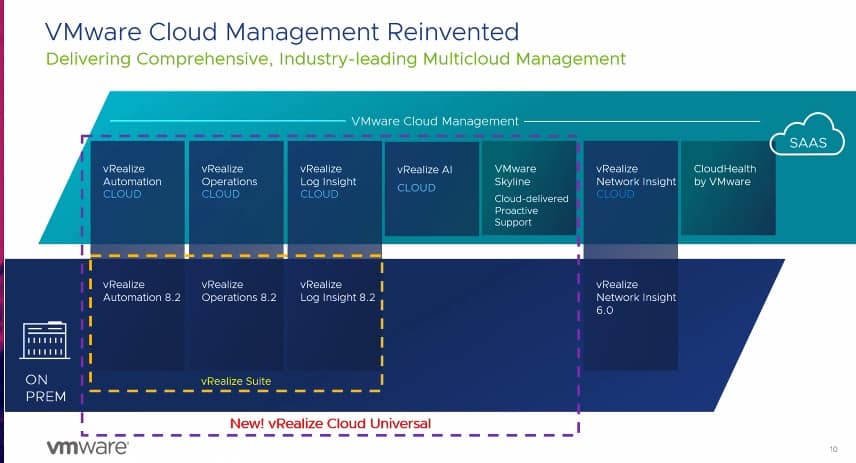 Okay, those workloads aren't going to move themselves. This is where VMware vRealize Suite and its SaaS and Hybrid can help organizations get to the cloud and shift from on-premises vSphere to VMware Cloud on AWS (VMC).
vRealize Suite can help to estimate the costs of running workloads in the cloud on VMC. Additionally, vRealize Network Insight. can be leveraged to look at North-South traffic and determine whether egress charges might apply. While estimating pricing is an important consideration, VMware customers can then leverage HCX to migrate the workloads. HCX workload migrator can potentially allow organizations to leverage L2 to migrate virtual machines and not have to re-IP virtual machines (VMS). Similar to lifting and shifting applications, L2 extensions are sometimes met with derision. However, often teams need whatever they need to do to accomplish their desired objectives and both acts frequently get labeled as short-term measures.
At Cloud Field Day 9, VMware Cloud Management laid out how vRealize can help organizations wherever they are in their cloud journey. One of the portions of their presentation that VMware didn't have a chance to touch on was for VMware Realize for Public Cloud Operations and Management. If organizations are in the public cloud, they can leverage the vRealize Suite for optimization. In addition, support for Salt Stack and Terraform integration and support bring cloud-native goodness.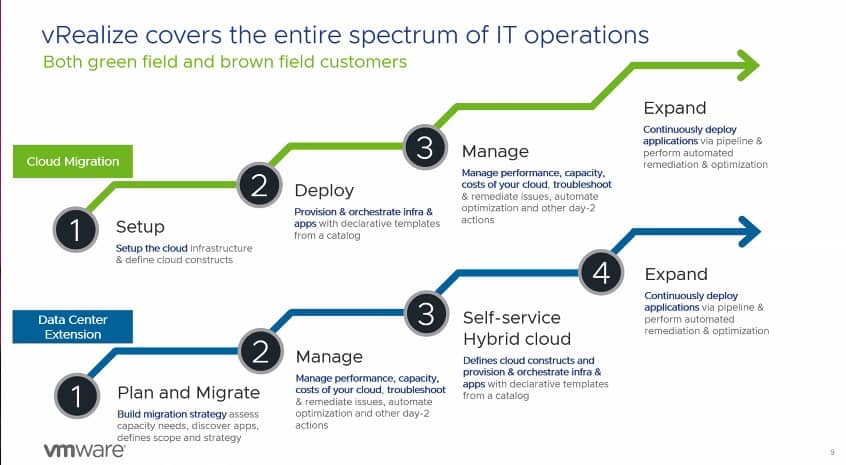 The Wrap-Up
I had this preconception that vRealize was mostly an on-premises automation tool. The breadth of this suite and the features offered by vRealize blew me away. Also, being able to leverage SaaS and On-Premises together is pretty compelling. Obviously, the vRealize team has been hard at work.
While lift-and-shifting is never optimal, vRealize Suite offers vSphere customers a less painful way to move into the Cloud. However, you would be remiss if you thought this solution was only for the lift-and-shifters. vRealize wants to enable organizations wherever they are in their cloud journey.
If you want to get a snapshot of some of what vRealize can do, be sure to check out VMware's Cloud Field Day 9 videos and the content from fellow delegates.